最新消息 │ News
道康寧®品牌 已正式更名為 陶熙™
2018-01-02 │  NEWS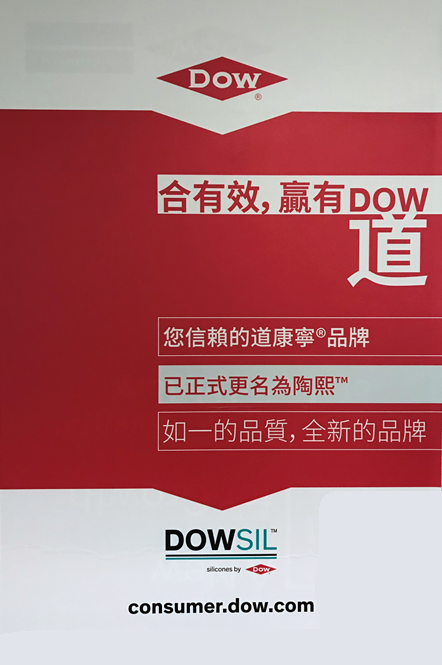 Branding changes have taken effect in November for customers in Europe, the Middle East and Africa, and are planned to take effect in February 2018 for customers throughout the rest of the world.
Overview of product brand changes
Most Dow Corning® and Dow Corning Toray brand products aligned to the Materials Science Division will move to the new DOWSIL™ product brand.

Dow Corning® brand lubricants will transition to MOLYKOTE™ or DOWSIL™ brands, depending on application.

Most products aligned to the Specialty Products Division will retain their current brand names:

Vast majority of products sold through the healthcare segment

Products sold through the thermoplastics segment (e.g., Multiflex®, Multibatch®, Multipro® and TPSiV®)

Products exclusive to the LED packaging lighting segment

Products exclusive to the solar segment

Molykote® brand products

Some Dow Corning® and Dow Corning Toray brand products
All product brand names will undergo subtle style changes, which include transitioning to uppercase letters and an unregistered trademark symbol (™), even when retaining their current brand names (e.g., Molykote® will become MOLYKOTE™).
Chemical equivalency certificates
A tool to generate chemical equivalency certificates in multiple languages is available on the integration information center at dowcorning.com/integration. The information center also houses other resources, including past customer communications and a detailed list of frequently asked questions.